Become Debt Free
What Is A Consumer Proposal?
A consumer proposal is a legally binding debt settlement agreement, filed with a Licensed Insolvency Trustee, to repay your creditors a percentage of what you owe in exchange for full debt forgiveness.
For Canadians struggling with monthly debt payments, a consumer proposal plan provides debt relief while avoiding bankruptcy. A consumer debt proposal is the only debt settlement program sanctioned by the Canadian government.
A Consumer Proposal Will Help You:
Consolidate unsecured debt
Make only one, single, lower monthly payment
Eliminate interest
Stop creditor actions
Keep your assets
Reduce principal repayment by as much as 80%
Settlements of 30 cents on the dollar are not uncommon however every debt proposal is different. Ultimate settlements depend upon your income and what you own. Every proposal to creditors is unique.
Proposal payments can be spread out over a maximum of 5 years and are interest free. In most cases, this can result in savings of as much as 70%-80%.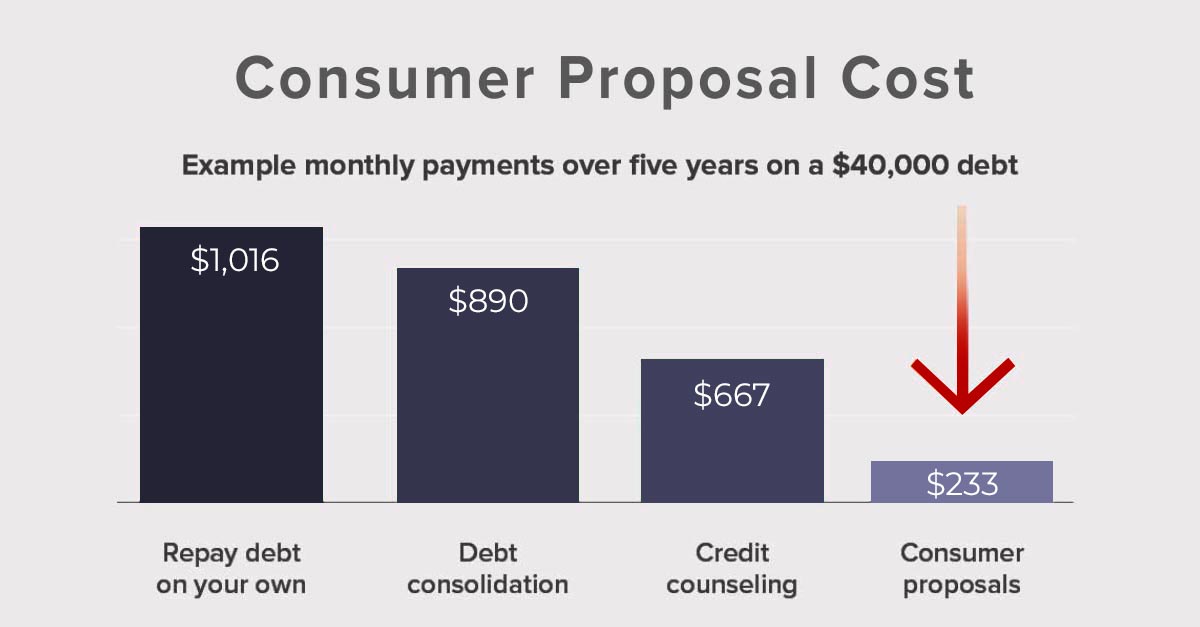 What debt does a proposal get rid of?
A consumer credit proposal deals with unsecured creditors and can eliminate almost all unsecured debts including:
credit card debts
bank loans
personal loans
outstanding utility bills, cell phone bills
membership and leases you want to cancel
payday loans
tax debts including HST, income taxes
student loans if you have been out of school for 7 years
A consumer proposal does NOT affect the mortgage on your principal residence or a secured car loan.
Who can qualify?
If you owe more than $10,000 you may qualify. A consumer proposal is for someone who:
can't afford to pay back their debts in full
wants to make a settlement offer to their creditors
has sufficient income to afford the monthly repayment amount
Get a Personalized
DEBT FREE PLAN
We'll provide you with the right information you need so you can make the best decision for you.
You talk with a licensed professional, not a salesperson.
All consultations are free with no upfront fees.
We have a 99% Consumer Proposal Acceptance Rate
You get customer-tailored expert advice. There are no one-size-fits-all solutions.
We won't force you to make a decision.
If you don't need to file a bankruptcy or consumer proposal, we'll tell you!
Our entire team is here to help you through the process. Have a question or concern? Call us anytime.